Professional, experienced, devoted.
The Alison Lawson visual therapy program was developed by Alison Lawson, a university-trained Orthoptist with over 60 years experience. She has devoted her life to researching and finding a solution to treat visual dyslexia. Due to her work, the Alison Lawson clinic is pleased to provide a simple, safe and successful treatment for learning difficulties.
Our Founder: The Story
Alison started her career at The Royal Children's Hospital, Camperdown where she became head of the Orthoptic Clinic. She was invited to become a member of the Orthoptic Clinic at Royal Prince Alfred Hospital, Sydney and later, at the Royal North Shore Medical Centre in St Leonards.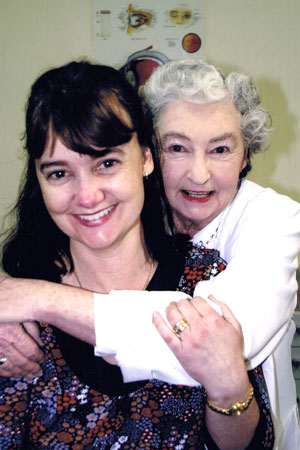 After a time, Alison went to England and was invited to join the Queen Elizabeth Hospital for Children, London. After this she alternated between the Royal County Hospital in Surry and St Lukes Hospital, Guildford. She was also in private practice with several leading ophthalmologists in England. In 1964, she returned to Australia and furthered her learning, undertaking various courses including that of Tutor Orthoptist, which qualified her to teach and train orthoptists. Following this, Alison accepted the position of Head Orthoptist with a group of eye surgeons in Parramatta. Combined with a practice in Gosford, she specialised in children's learning difficulties and undertook extensive research in the visual cortex section of the brain.
In 1979 she patented a machine known as the Lawson Anti-Suppression Device (LASD) which was used to treat Amblyopia. Following this event, Alison was increasingly aware of the number of children who were experiencing difficulty reading. The children she studied struggled with reversals of letters and words, and/or words moving on the page. As she started to observe them more closely, she found another significant commonality: a moving focal point in one of their eyes. This moving focal point led to the brain responding in such a way as to cause the various symptoms which made learning, reading and writing difficult. This led her to develop the very simple, safe and effective medical treatment for Visual Dyslexia which was patented on 11th July, 1996.
Today & The Future
Alison's youngest daughter, Maria Thomas, is passionate about continuing her mother's work. After being fully trained, she established a Centre on the Central Coast in 2006, and in 2010 she relocated to the Head Office in Moss Vale to work with her mother. Initially completing a Business Degree and working in private enterprise, Maria is now a qualified tutor and loves helping people reach their full potential.
So Alison's work can continue and to make the treatment more accessible, other Centres have been established within Australia & internationally. The staff operating these Centres are dedicated professionals who have been trained by Alison and have first-hand experience with the difficulties and frustration that dyslexia can cause individuals and families.
It is with great sadness that we inform you that Alison Lawson passed away on 10th April, 2017. Mrs Lawson devoted her life's work to helping suffers of dyslexia but it was always her fervent wish that the technology she invented will continue. In her lifetime many Centres have been established with fully trained technicians to continue this wonderful work.
Concerned about your child's academic progress?
A successful treatment is available in just ten one-hour sessions. Reach out for help today.